Ah, coffee! These are the words that you will hear from a coffee lover and why not, coffee acts as a sweet balm that helps you in accomplishing the task of the day.
But it gives a big burden to your wallet if you are having it from a café on a daily basis. A coffee maker is the only solution to this problem.
With that, you not only brew your cup of coffee but you can create your taste and brew method.
Cuisinart is one of the coffee maker companies that are known for making the best coffee makers in the world.
Now the question arises how to make coffee in Cuisinart? In this article, we are going to discuss the answer to this question.
Make Coffee in Cuisinart DCC-3200 Coffee Maker
Cuisinart DCC-3200 is a 12 cup coffee maker which is attractive and affordable both. This machine is programmable, has a permanent filter and charcoal water filter, adjustable automatic off up to 4 hours, and clean alert and cycle.
We will discuss how to use this machine to make a delicious cup of coffee.
Ingredients Required
Water: Generally it is preferred to use filter water to make coffee but this machine comes with a charcoal water filter so you can use tap water for making coffee as it will not harm the taste of the coffee.
Coffee Beans: Choose the right coffee beans or if you are using a ground coffee maker sure it is fresh. Consider the roast type- light, medium, dark roast before brewing, and use it according to your taste.
Ground Coffee: If you are grinding your coffee at home then pay attention to how fine you are grinding. If you are using ground coffee bought from the market then check how fine the coffee is a grind because the very fine ground will taste bitter and very coarse will clog the machine.
Proportion: You always want the best cup of coffee but it will be very disappointing if it is too weak or too strong. Use the correct proportion of coffee and water by using perfect measurement in which you can adjust the amount of coffee according to your taste.
How to Make Coffee in Cuisinart?
Prepare the coffee maker: Check whether the coffee maker is clean or not and set it on a level surface so that it may not fall while working.
#1 Measure the water
Cuisinart's machine comes with measurements on the sidewall of the coffee maker that makes it easy for the user to note how much water is added.
#2 Fill the Water Reservoir
For making coffee in Cuisinart's 12 cup coffee maker add 12 cups of water to the water reservoir. After adding the water, close the lid securely.
#3 Preheat the Carafe
To save your carafe's thermal glass lining and to keep your coffee hot for a long run, put some hot water into it and then pour out and keep the carafe on the plate.
#4 Preparing Coffee Filter
Cuisinart's filter basket needs to be lined with a reusable and disposable filter basket and make sure to use freshly ground coffee for making coffee.
#5 Add Coffee
As mentioned above add freshly ground coffee to the filter basket for better taste.
The standard measurement for a single cup of coffee is a half teaspoon for light flavor, one tablespoon for medium flavor, and 2 tablespoons for strong or dark flavor. Measure it accurately and put the filter in the machine and close the lid.
#6 Brew Coffee
As this coffee maker from Cuisinart is programmable and has an automatic shut-off and on, it becomes very user-friendly.
Just switch on the coffee maker, adjust the time and temperature and let the machine complete the process itself. It will let you know with the beep sound.
#7 Pour Coffee
As your delicious cup of coffee is ready, pour it in a coffee mug and enjoy.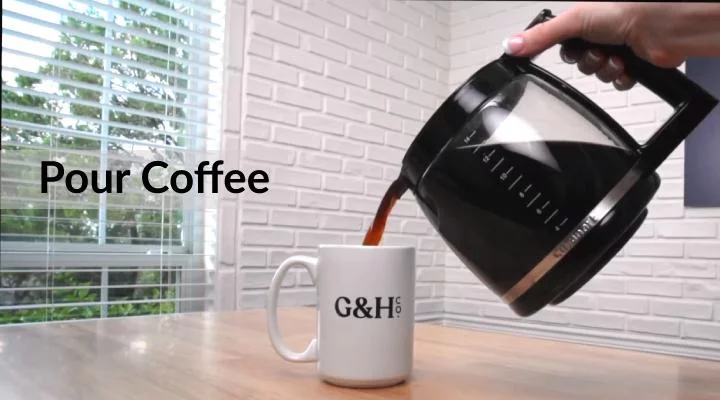 #8 Clean the Coffee Maker
The most important step after you brew and enjoy your coffee is to clean it. For the long-running of a machine, it is important to clean it by opening the filters and removing the residue from it.
Find right way to clean coffee maker in details
Final Thoughts
There are several other ways to make a tasty cup of coffee. You just need to be creative and a little careful. Else you know coffee in itself is a language that speaks for itself.
Happy brewing!